At some point in your musical career, you might wonder about the advantages and disadvantages of touring in a sleeper bus. Sleeper busses, also known as Sleeper Coaches, Nightliners, or Entertainer Coaches exude an air of luxury. Still, there are pros and cons of touring in a coach and you have to decide if it's the right time and place for it.
Can you save money with touring in a coach?
First: It only makes sense to tour in a sleeper bus if your band already has a certain popularity and income. If the local promoters/venues agree to book you in a hotel and if they can save money when you spend the night in a sleeper bus instead, there is a chance that you get a "buy-out", which helps to pay for the coach rental fee.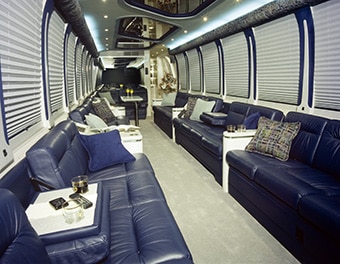 This, of course, only works if the local promoters make money with your show. If they don't, they would rather keep the saved hotel money. Keep in mind that in the live music business, if less than 200 people come to a show, nobody really makes huge profit – not the local promoters, not the artist or anybody else who is/was involved.
Plan ahead – where will you tour and how long?
Often, smaller venues don't have a parking space for the sleeper bus and it might not be possible to get to the venue due to small streets or access restrictions, especially in Europe. So, if you decide to tour in a sleeper bus, you should plan before your booker starts to book shows so that they can ensure that you will be able to reach the venues without the additional costs of renting smaller vehicles for the transport of your gear between the bus and the venue. Keep in mind that some venues might have transport services of their own.
In some European cities, you must also ensure that your vehicle meets the emissions standards. For example, driving a coach, which doesn't meet the standards in London, can be quite expensive. For more info, please check https://tfl.gov.uk/modes/driving/low-emission-zone/check-if-your-vehicle-is-affected/hgvs-lorries-buses-and-coaches
The efficiency of a sleeper bus also depends on area where you will tour. For example, many venues in Germany have band flats available for bands to stay after the show. In other regions, local promoters don't care for the accommodation. So, if you have to book hotels yourself, you could potentially save money with a sleeper bus.
Pros and cons of touring in a sleeper bus
For tour managers and drivers, however, a sleeper bus can make life easier as it's harder for band members to disappear if the bus is your home and parked next to the venue. Everybody who tours a lot knows that a constant source of trouble is that band members forget their stuff at various sleeping places such as chargers, their favorite stage shirt, equipment parts, or even purses or passports. A sleeper bus minimizes the risk of that.
In countries with crowded highways and lots of traffic, sleeper buses are convenient if you can start after the show and drive at night. For the driver, that means night shifts, but also driving in a much less stressful environment, especially for longer drives between two shows that can be a big advantage.
Driving a sleeper bus is a challenge for any driver and sometimes also for the passengers. If the driver has to take a break and sleep for a few hours on a highway gas station while you are wide awake, you might get bored to death. However, while the driver is sleeping in his bunk, obviously everybody else should be quiet. In Europe, it's nearly impossible to stop with a big bus in the city center so that you can do a little bit of sightseeing while the driver takes his/her well-deserved break.
If you drive during the day, the drives can take longer in a coach than in a van due to special speed limits for busses.
Tips for touring in a coach
Touring in a sleeper bus shouldn't take longer than a week with a single driver; if the tour is longer, the drivers should switch after a few days.
If you tour in a sleeper bus, make sure that there is enough space for the equipment so that you don't need to travel with a trailer. The efficiency of a trailer also depends of the touring area and the speed limit for busses with trailers.
Let me know about your experiences with sleeper busses in the comments section.