This post is also available in: 
 German
---
When I rent out self-drive tour vans, I have many young customers who have probably never owned a car or didn't rent cars very often before. For example, many ask about the deductible, what it means, and why they should pay extra to reduce it.
What means "deductible"?
Car owners know that their insurance policy doesn't cover the repair, if they damage their car by their own fault. In contrast, rental vans usually have fully comprehensive insurance with a certain deductible, like 1000 €. This kind of insurance is very expensive, but therefore the insurance company covers the repair costs which exceeds the amount of 1000 €.
Inexperienced renters often underestimate the costs of repairs, so when they come back with a scratch or a dent and later see the cost estimate of the garage, they are often surprised about the amount. I have to admit that I was equally shocked about the prices, when I started to rent out tour vans.
It's important to keep in mind that renters only have to pay for the repair in the amount of the deductible. Often, car rentals offer to reduce the deductible for an extra fee. For example, if you reduce the deductible to 500 €, you only have to pay 500 €, if you damage the van. Usually renters pay a deposit in the same height of the deductible, so that the lessor doesn't have to run after his money in case of damages.
When and why do you have to pay for a damage?
When returning tour vans or buses, there is also room for misunderstandings, for example when you bring back the vehicle and tell the lessor that the damage wasn't your fault. In this scenario, you must prove it. Every lessor hears the sentence, "the dent was already in the van when we came back to the parking space" quite frequently. But he or she obviously cannot reply "no worries, then I'm happy to pay for the repair". If that were the case, there soon wouldn't be any rental companies anymore. If you don't have the address and insurance number of the person who damaged the van, you have to pay for the damage.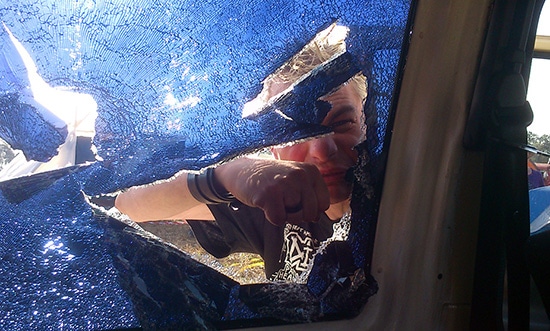 One particularly difficult topic is glass damage. Often, car rentals have a partial coverage for that, but there is also usually a deductible ranging from 150 € to 500 €. So, if you are unlucky and a stone damages the window, you have to pay the deductible, even if it wasn't your fault (as it wasn't the renters fault either).
Imagine that you give your car or bicycle to a friend and he brings it back broken. Because you're friends, you might be able to afford to forget that it happened and buy a new vehicle. But a lessor, who tries to make a living out of renting out tour vans, simply cannot afford to do that.
---
Author: Mary